OCKEGHEM – masses 2 – beauty farm
Who was Johannes Ockeghem (c 1420 – 1497)? For a long time he was perhaps the most famous unknown person in music history, especially in the Renaissance. There was no doubt about his contemporary fame, his position as the most important representative of the "second generation" of Franco-Flemish composers, as the link between Du Fay and Josquin. But what its significance actually was and how its artistic development could be described, there was a long lack of clarity about it, which has only been somewhat cleared up in recent decades thanks to intensive research (and excellent interpretations of his works).
---
Wer war Johannes Ockeghem (ca. 1420 – 1497)? Lange Zeit war er der vielleicht berühmteste Unbekannte der Musikgeschichte, speziell der Renaissance. An seinem zeitgenössischen Ruhm, seiner Stellung als des bedeutendsten Vertreters der "zweiten Generation" frankoflämischer Komponisten, quasi des Bindeglieds zwischen Du Fay und Josquin, bestand kein Zweifel. Doch was seine Bedeutung eigentlich ausmachte und wie sich seine künstlerische Entwicklung beschreiben lässt, darüber herrschte lange Unklarheit, die sich erst in den letzten Jahrzehnten dank intensiver Forschung (und hervorragender Interpretationen seiner Werke) etwas gelichtet hat.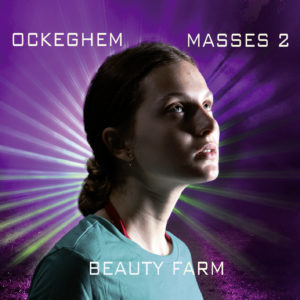 artist
OCKEGHEM – masses 2 – beauty farm

---
beauty farm
Bart Uvyn [countertenor]
Adriaan De Koster | Tomáš Lajtkep | Achim Schulz | Hannes Wagner [tenor]
Arnout Lems   [bariton]
Joachim Höchbauer [bass]
---
fb 1909373
2 CD
total time c 112 min.
EAN 4260307433734
---
released in October 2019
tracks
OCKEGHEM – masses 2 – beauty farm
---
Johannes Ockeghem   (c 1420 – 1497)
---
A


MISSA Mi-Mi

   

a 4




MMISSA ECCE ANCILLA DOMINI  

a 4
---
B


MISSA CAPUT

   

a 4




MISSA CUIUSVIS TONI in mi

   

a 4
---
contact | beauty farm
[contact-form-7 id="224″ title="Kontaktformular 1″]