FOUR HANDS ON MOZART
Cars with combustion engines or electric cars—that is the question. Choosing between piano or harpsichord with Mozart's music the answer is clear …
Mozart is full of self-confidence: «I cannot write poetically, for I am no poet. I cannot make fine artistic phrases that cast light and shadow, for I am no painter; I can neither by signs nor by pantomime express my thoughts and feelings, for I am no dancer; but I can by notes, for I am a musician.» And has a congenial partner at the piano: His elder sister by about five years Maria Anna («My dearest Nannerl my sisterl!») «… my girl is one of the best players in Europe» (Leopold Mozart, 1764).
---
Autos mit Verbrennungsmotor oder E-Auto — das ist die Frage. Eine Antwort fällt schwer. Wenn es um die Wahl zwischen Klavier oder Cembalo bei Musik Mozarts geht, ist die Antwort klar …


Von sich selbst ist Mozart überzeugt: «Ich kan nicht Poetisch schreiben; ich bin kein dichter. ich kan die redensarten nicht so künstlich eintheilen, daß sie schatten und licht geben; ich bin kein mahler. ich kan sogar durchs deüten und durch Pantomime meine gesinungen und gedancken nicht ausdrücken; ich bin kein tanzer. ich kan es aber durch töne; ich bin ein Musikus.» Kongeniale Spielpartnerin am Flügel: Die um etwa fünf Jahre ältere Schwester Maria Anna («Meine liebste Nannerl mein schwesterl!»): «…, daß mein Mädl eine der geschicktesten Spilerinnen in Europa ist, …» (Leopold Mozart, 1764).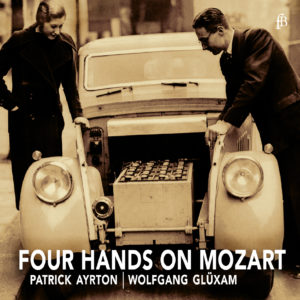 artist
FOUR HANDS ON MOZART

---
Patrick Ayrton
|
Wolfgang Glüxam
[Cembalo | harpsichord]
---
fb 1803913
1 CD
Gesamtzeit ca. 74 min.
EAN 4260307433918
---
released in April 2019
tracks
FOUR HANDS ON MOZART
---
Wolfgang Amadeus Mozart   (1756 – 1791)
---
Sonate in D-Dur, KV 381
Andante mit Variationen, KV 501
Sonate in C-Dur, KV 521
Sonate in B-Dur, KV 358
Fuga, KV 401 [Fragment]
---