DON ANTONIO – Il prete amoroso
---
«Then we sat down and listened to quite beautiful music from all kinds of instruments, which were all played by the nuns. In particular, I was astonished to hear several angelic voices, the likes of which I had never heard before in my life.» (VON UFFENBACHS TRAVELS with Bernhard Trebuch)
This is how Herr von Uffenbach reports about the nuns who were trained in music in the famous Ospedali in Venice and whose concerts were known far beyond the Srenissima.
Antonio Vivaldi, who wrote many of his concertos for the young ladies, also worked in one of these Osepdali – orphanages.
The Austrian recorder virtuoso Michael Oman gathered the crème de la crème of the early music scene around him with Amandine Beyer, Paolo and Albert Grazzi as well as Francesco Galligioni when he sets out on the trail of the concerti of the Prete rosso.
---
«Da setzten wir uns nieder und hörten eine recht haupt-schöne Music von allerhand Instrumenten, die doch alle durch die Nonnen gespielet wurden. Insonderheit war ich recht verwundert über etliche recht engelsgleiche Stimmen, wie ich sie mein Lebtag noch nicht gehört hatte.» (VON UFFENBACHS REISEN mit Bernhard Trebuch)
So berichtet Herr von Uffenbach über die Nonnen, die in den berühmten Ospedali in Venedig in der Musik ausgebildet wurden und deren Konzerte weit über die Srenissima hinaus bekannt waren.
In einer dieser Osepdali — Waisenhäuser — wirkte auch Antonio Vivaldi, der den jungen Damen viele seiner Konzerte auf den Leib schrieb.
Der österreichische Blockflötenvirtuose Michael Oman scharte mit Amandine Beyer, Paolo und Albert Grazzi sowie Francesco Galligioni die Crème de la Crème der Alte-Musik-Szene um sich, wenn er sich auf die Spuren der Concerti des Prete rosso macht.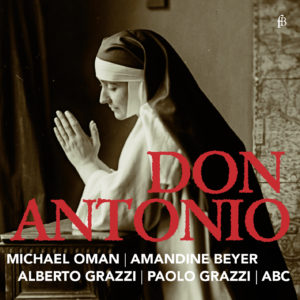 artist
DON ANTONIO

 – Il prete amoroso


---
Michael Oman
| recorder, direction
Amandine Beyer | baroque violin
Paolo Grazzi | baroque oboe
Alberto Grazzi | baroque basson
ABC – AUSTRIAN BAROQUE COMPANY

---
fb 

2271745

1 CD
EAN 
4260307437459
---
released in January 2022
tracks
DON ANTONIO – Il prete amoroso

---
ANTONIO VIVALDI (1678 – 1741)
Flautino Concerto in C Major, RV 443
Chamber Concerto in G minor, RV 107
Chamber Concerto in G major, RV 101
Flute Concerto in G minor «la notte», RV 439
Chamber Concerto in G minor, RV 103
Flute Concerto in D major «Il Gardellino», RV 428
---