BACH – a violoncello solo – chapter 2 – Francesco Galligioni
«They are the quintessence of Bach's work, and Bach himself is the quintessence of all music.» (Pau Casals)
After many years as a cellist in the Venice Baroque Orchestra, chamber musician and soloist, Francesco Galligioni ventured into the Parnassus. Based on experience, knowledge of the manuscripts and baroque performance practice, a lively, passionate interpretation of Bach's masterpieces emerges.
---
«Sie sind die Quintessenz von Bachs Schaffen, und Bach selbst ist die Quintessenz aller Musik.» (Pau Casals)
Nach vielen Jahren als Cellist im Venice Baroque Orchestra, als Kammermusiker und Solist wagt sich Francesco Galligioni in den Parnass. Aus Erfahrung, Kenntnis der Manuskripte und der barocken Aufführungspraxis entsteht eine lebhafte, leidenschaftliche Interpretation der Bachschen Meisterwerke.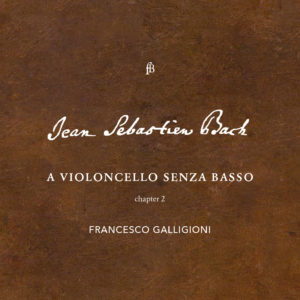 artist
BACH – a violoncello solo – chapter 2

---
Francesco Galligioni
| Violoncello | Cremona, end of the 17th century
---
fb 2004693
1 CD
total time c 59 min.
EAN 4260307436933
---
released in June 2020
tracks
BACH – a violoncello solo – chapter 2
Johann Sebastian Bach  (1685 – 1750)
---
Suite No. 4 in E-flat major, BWV 1010
Suite No. 5 in c minor, BWV 1011
---
Booklet-Text
CHAPTER 2 : Dear listeners, having reached the second stage of our journey, I would like to share with you my thoughts and reflections on the suites in this volume. They are not the thoughts and reflections of a musicologist, but of a «prattico musician»: they are the steps I have taken to present to you, to the best of my ability, these works which, because of their depth of inspiration, lead to reflections which, through music, allow us to explore the vastness of the human soul. The first consideration I share with you concerns the Praeludium of Suite 4. Apparently everything flows easily in the simplicity of regular colours that characterize its writing. However, the tonality, extremely complex for the cello, hides a difficulty hard to overcome. The first note of each bar is also the lowest and always proceeds with a very wide jump. The risk, to make it feel better and to make the jump easy and intelligible, is therefore to hold it longer than written. This all too often leads to a complete upheaval of Bach's writing: a regular 4/4 (made up of eight quavers) is thus transformed into an attractive 9/8 (made up of a semiminima followed by seven quavers) due, however, and exclusively, to an instrumental difficulty. My intention is therefore to think of it as fluent and almost harpsichordistic, fully respecting its writing. As in all the other preludes, a first section is followed by a «cadenzal» and free zone in which sprints of semiquavers and chords appear. In the allemande and courante it came naturally to me to add the doubles. An uninterrupted series of semicrome that resume in the whole course of the dances to which they refer and that in my intention should unravel the difficulties of interpretation, loosening the arduous harmonic knots. So, as in the Partita BWV 1002 for violin, the double of the allemande presents a melodic course and variety in the ligatures, while that of the courante presents itself as a perpetual motion in loose sixteenths. In the Sarabande we will find a progressive thickening of the writing that will exalt the Bach's handwriting kept astride the repetitions. In the Bourrée we are immediately struck by the disparity of «size» between the first and second section: 34 bars against 8. I have therefore carried out this second section with several repetitions and decreases with a central cantabile zone, because in my opinion this is a choral and I am sure that, if you pay attention, you too will hear a voice intoning it. Suite 5 is dominated by the size and importance of the prelude. It is clearly a two-part French overture; and the French style permeates it in a decisive allemande and courante way. The blooms and embellishments therefore try to fully reflect the style. The dances gradually become more «figurative» and leave room for a rhythmically less rigorous interpretation. Sarabande is a masterpiece of fixity and movement, of simplicity and daring, of depth and lightness; any other word here would be superfluous. The inegality and lightness, steps towards the luminosity of the sixth suite, dominate the gavotte and the gigue. I tried as much as possible to carry on the cello the «polyphonic» figures of this same music, present in the autograph version of Bach for lute (BWV 995). Very precious were your comments and suggestions about the suites performed in the first volume. And I thank you to be in my company again for the second chapter of this journey that leads us into the depths of the human soul that resonate in the music of Johann Sebastian Bach. AMDG
biography
Francesco Galligioni studied cello at the 'C. Pollini' Conservatoire in Padua with Gianni Chiampan, and following his Diploma took part in masterclasses with Michael Flaksman and Teodora Campagnaro. He then studied with Franco Maggio Ormezowski at the Accademia Nazionale di S. Cecilia in Rome, where he was awarded a scholarship and obtained a further Diploma in just two years, and at the Arturo Toscanini Foundation in Parma in the courses for soloists and orchestra leaders.
He has taken part in courses specializing in baroque cello held by Walter Vestidello and Gaetano Nasillo, and worked with soloists and conductors of international renown (Anner Bylsma, Giuliano Carmignola, Cecilia Bartoli, Max Emmanuel Cencic, Magdalena Kozena, Sergio Azzolini, Sara Mingardo, Victoria Mullova, Angelika Kirschlagher, Andrea Marcon, Federico Guglielmo, Sir J. E. Gardiner, Diego Fasolis, Pedro Halffter, Bob Van Asperen, Michael Radulescu, Gustav Leonhardt, Christopher Hogwood), both in concert performances and recordings. His passion for early music led him to study viola da gamba with Paolo Biordi at the Conservatoire in Florence, where he obtained the Diploma in 2004, followed in 2007 by a first dass degree with a thesis on the relationship between the arpeggione, viola da gamba and baroque cello, with a performance on this latter instrument of the famous sonata. A founding member of the Accademia di S. Rocco and later of the Venice Baroque Orchestra, he has played first cello in the foremost concert venues, including the Royal Albert Hall and Barbican Hall (London), Lincoln Center and Carnegie Hall (New York), JFK Center for Performing Arts (Washington DC), Tonhalle (Zurich), Konzerthaus (Berlin), Het Concertgebow (Amsterdam), Musikverein and Konzerthaus (Vienna), Kyoi hall (Tokyo), Opera Berlioz (Montpellier), Theatre des Champs­Elysees (Paris), W. Disney City Hall (Los Angeles), Gran Teatro La Fenice (Venice). He has recorded for ARCHIV-PRODUKTION (Deutsche Grammophon), Arts, ORF, Chandos, Brilliant, Naxos and Sony Classical. With this latter label he played first cello and soloist with the Venice Baroque Orchestra, as well as performing in various chamber ensembles, including in Trio with Giuliano Carmignola and Lutz Kirtzof and in sonatas with Anner Bylsma.
His concerts as a solo ist ha ve been broadcast by WDR, ORF, SWR2 and MDR (concerto for violin and cello by Antonio Vivaldi with Giuliano Carmignola), as well as by ABC, NPR, BBC3, RDP and Japanese television while touring in Japan in September 2005. The ensembles with which he has played lead parts include «Sonatori della Gioiosa Marca», Orchestra Barocca del Friuli Venezia Giulia «G.B.Tiepolo», I Barocchisti, Oman Consort, Arte dell' Arco, Gambe di Legno Consort, I Virtuosi delle Muse, Opera Stravagante, Ensemble Zefiro. In 2006 he was guest cello soloist with the Gran Canaria Philharmonie Orchestra. In 2007 he taught at the Ludwigsburger Akademie summer courses, and played as soloist with the orchestra in the Salzburg Festspiele at the Musikverein Grosser Saal in Vienna, the Tonhalle in Zurich, the Victoria Hall in Geneva, the Barbican in London, the Theatre des Champs-Elysees in Paris. In November-December 2008, he took part in a chamber music tour with cellist Mario Brunello with concerts in Florence, Milan, Turin and Rome in Italy, and then in Japan. In recent years Galligioni has also focused on contemporary music on period instruments, playing works by composers such as Philip Glass, Giovanni Sollima, G. Bersanetti, J. Tavener. In 2011 he was the soloist in the Vivaldi Concerto RV531 with cellist Gautier Capuchon. His recording of the complete cello concertos by Vivaldi was released in a 4 CD set by Brilliant Classics, who also released his recording of Vivaldi's six printed sonatas, and a 5 CD set of Salvatore Lanzetti's printed sonatas. Galligioni plays a cello made by Paolo Antonio Testore in 1740 and a viola da gamba dating back to the early 1700s. He has taught cello at the Conservatoires of Lecce, Reggio Calabria, Genoa and Adria, and currently teaches the same instrument at the Conservatorio Agostino Steffani in Castelfranco Veneto (TV), and the viola da gamba at the Conservatorio Jacopo Tomadini in Udine.