Johann Nepomuk Hummel: Sonatas & Variations
(Linde Brunmayr-Tutz transverse flute, Jaap ter Linden cello, Bart van Oort fortepiano)
Hummel not only possessed an exceptional talent as a pianist, but was also a virtuoso in what we would call «marketing» today. His numerous compositions satisfied a rapidly increasing demand for works within amateur circles amongst the nobility and gentry in which piano playing and music making in the most diverse chamber music formations was enjoying a rapid upsurge. Johann Nepomuk Hummel knew how to put this upsurge in music publishing to his personal advantage and may rightly be considered a pioneer in musical copyright – the works published by prestigious houses enjoyed such commercial success that he was soon in possession of a considerable fortune.
Nevertheless, Johann Nepomuk Hummel remained «remarkably modest», as Goethe put it, despite his fame reaching its zenith during the Weimar years and his being able to look back on a brilliant career stretching over several decades. Hummel's father, who was employed as a violinist in a nobleman's music band in Vienna and later became Kapellmeister in a Bratislava theatre, fostered the child prodigy's musical talent.
First recordings of this beautiful chamber music on period instruments.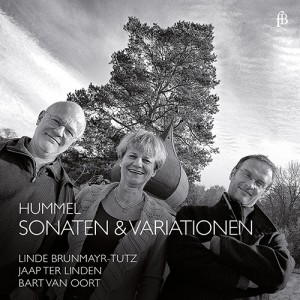 ARSTIST
Johann Nepomuk Hummel  (1778 – 1837)
Sonate pour le Pianoforte avec accompagnement de Flûte ou Violon op. 50 D-Dur
Grande Sonate pour le Piano avec accompagnement de Violon ou Flûte obligé op. 64 A-Dur
Variazioni alla Monferina per  Violoncello e Pianoforte op. 54 d-moll
Adagio, Variations et Rondo sur un Thème Russe pour Piano, Flûte et Violoncelle op. 78 A-Dur
Linde Brunmayr-Tutz
Eight-keyed transverse flute by Rudolf Tutz, Innsbruck 2008
Jaap ter Linden
cello by Giovanni Grancino, Milan 1703
Bart van Oort
Fortepiano by Zierer, ca. 1840
(on loan from the Zeeuws Genootschap der Wetenschappen, The Netherlands)
fb 1502793
EAN code 4260307437930