CORRELLI'S SYMPHONY: Concerto Stella Matutina, Collegium Marianum, Croatian Baroque Ensemble, Irish Baroque Orchestra, Hiro Kurosaki, Veronika Skuplik
Arcangelo Corelli – the name itself is music. Arcangelo Corelli the «archangel» of the violin: connoisseurs value him as the inventor of the concerto grosso and can whistle the Pastorale from his Christmas concerto by heart. Only a few film buffs know that the adagio from this selfsame concerto was the film music for «Master & Commander» (2003). Insiders know that Francesco Geminiani reworked the opus 5 violin sonatas – including the famous d minor sonata «La Follia» (madness, frenzy) – by his teacher Corelli into concerti grossi.
The historical occasion for an «Omaggio a Corelli» was of course the 300th anniversary of the death of the composer (January 8th 1713). The artistic motive was not only to place Corelli's music in the context of his contemporaries as well as his predecessors and successors, but also to make an unusual experiment. It is only a little-known fact that the orchestra of Corelli's time in Rome could sometimes be extremely large. So we may consider ourselves lucky, rather like the patrons of Corelli's time around 1700 in Rome, to be able to hear a large-scale orchestra – a «baroque symphony orchestra» – playing music by Arcangelo Corelli on historical instruments.
Recorded at Internationale Barocktage Stift Melk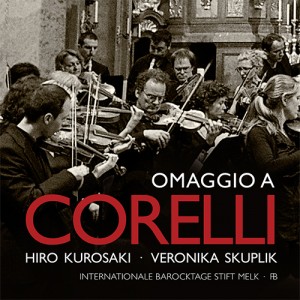 CREDITS
Michel Blavet (1700 – 1768)
Gavotta di Corelli con variazioni
Arcangelo Corelli (1653 – 1713)
Concerto quarto D Major from op. 6
Bernardo Pasquini (1637 – 1710)
Toccata con lo scherzo del cuccó
Arcangelo Corelli (1653 – 1713)
«Follia» from op. 5
Giuseppe Torelli (1658 – 1709)
Sinfonia in D-Dur
Antonio Vivaldi (1678 – 1741)
Sonata XII in d Minor «La Follia» from op. 1
Georg Muffat (1653 – 1704)
Passacaglia from Sonata quinta «ARMONICO TRIBUTO», Salzburg 1682
Antonio Bertali (1605 – 1669)
Sonata in d Minor from MS «Partiturbuch Ludwig» (1662)
Arcangelo Corelli (1653 – 1713)
Concerto sesto in F Major from op. 6
Concerto Stella Matutina
Collegium Marianum
Croatian Baroque Ensemble
Irish Baroque Orchestra
Maestri di concerto
Hiro Kurosaki violino primo del concertino
Veronika Skuplik violino primo del concertino
Laura Vadjon violino secondo del concertino
Balázs Máté violoncello del concertino
Nadja Lesaulnier clavicembalo del concertino & organo solo
Yonit Kosovske clavicembalo del ripieno
Christoph Hammer organo del ripieno
Evangelina Mascardi tiorba
Jana Semerádová flauto traverso solo
fb 1505322
EAN code 4260307413088
TO BE RELEASED IN JUNE 2015