Les voyages de M. Froberger – Glüxam
DER FROBERGER CODE
2016: Nach langem Stillschweigen schicken sich Heerscharen von MusikwissenschafterInnen und MusikerInnen an, Frobergers Leben und Werk durchzuscannen.
Was weiß die Welt? Nicht wenig von Frobergers Zeitgenossen selbst – sei es aus Briefen oder durch biographische Einträge in historischen Lexiken. Manches überliefert der Fantast selbst in textlichen Erklärungen zu seinen programmatischen Werken.
Les voyages de M. Froberger – Glüxam
THE FROBERGER CODE
2016: after a long period of silence, scores of musicologists prepare to examine Froberger's life and works.
What do we know? Quite a lot from Froberger's own contemporaries, whether from letters or from biographical notices in history books, and something from the fantasist himself through the written expla- nations to his programmatic works.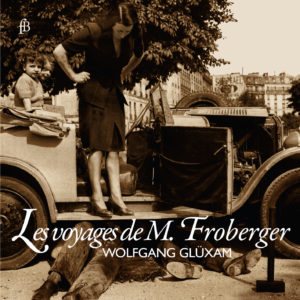 ARSTIST
harpsichord
Willem Kroesbergen, Utrecht 1981
2 manuals, flemish, meantone temperament
organ
Johann Wöckherl, 1642 (Franciscan Church, Vienna)
Hauptwerk CDEFGA–c3
Principal 8' | Copln 8' | Quintadena 8' | Prinzipal octav 4' | Quint     3'
Superoctav 2' | Mixtur VI 11/3' | Copl Flötten 4' | Tremolant
Brustpositiv CDEFGA–c3
Copln    8' | Spüzflöten 4' | Principal octav 4'| Super octav 2'
Khrumphörner 8' | Zümbl III 2/3'
Pedal CDEFGA–b0
Portuna 16' | Plochflötten 8' | Octav 4' | Quint 3' | Mixtur IV 2'
Pusaunnen 8'
fb 1609113
1 CD
EAN 4260307431136

tracks
Johann Jakob Froberger

  (1616 – 1667)

[ 1 ]    Toccata in a, FbWV 101 (1649)
 Suite in d (1649)
[ 2 ]    Allemanda
[ 3 ]    Courant
[ 4 ]    Sarabanda
[ 5 ]    Gigue
[ 6 ]    Lamento sopra la dolorosa perdita della R. Mstà di Fernandino IV, re de Romani aus Suite VI (1656)
[ 7 ]    Partite «Auff die Mayerin» (1649)
Suite XXIX in a
[ 8 ]     Allemande
[ 9 ]     Courante I
[ 10 ]     Courante II
[ 11 ]     Sarabande
[ 12 ]     Gigue

[ 13 ]    Toccata XIX in d, FbWV 119
[ 14 ]    Canzon V, FbWV 305 (1649)
[ 15 ]    Fantasia VIII
[ 16 ]    Fantasia I sopra ut re mi (1649)