Handel – Israel in Egypt – Sir Malcolm Sargent
A conductor of national fame: Sir Malcolm Sargent (1895 – 1967) conducting his Liverpool Philharmonic Orchestra and the Huddersfield Choral Society in George Frideric Handel's choral masterpiece. «Israel in Egpyt» premiered at London's King's Theatre in the Haymarket on April 4, 1739. Sir Malcolm arranged the biblical oratorio for huge symphonic orchestra. «Sir George» would have loved this!
Ein Dirigent als Nationalheld: Sir Malcolm Sargent (1895 – 1967) dirigiert sein Liverpoll Philharmonic Orchestra und die Huddersfield Choral Society in Georg Friedrich Händels großem Chororatorium. «Israel in Ägypten» wurde am 4. April 1739 zum ersten Mal im King's Theatre am Haymarket in London aufgeführt. Sir Malcolm Sargent hat das Meisterwerk für Großes Orchester arrangiert. «Sir George» hätte das geliebt!
---
HANDEL VINTAGE – REMASTERD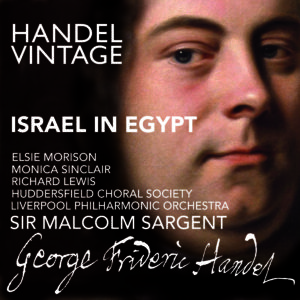 artist
GEORGE FRIDERIC HANDEL
ISRAEL IN EGYPT
Huddersfield Choral Society
Liverpool Philharmonic Orchestra
Elsie Morison  Sopran  |  soprano
Monica Sinclair Alt  |  contralto
Richard Lewis Tenor  |  tenor
SIR MALCOLM SARGENT  Dirigent  |  conductor

FIN 1808017
EAN 4260307437176
HANDEL VINTAGE – remastered recording 1957
released on August 26th 2018
tracks
1 Israel in Egypt, HWV 54: Part I: Recitative: Now there arose a new king [Tenor]
2 Israel in Egypt, HWV 54: Part I: And the children of Israel sighed [Chorus]
3 Israel in Egypt, HWV 54: Part I: Recitative: Then sent He Moses His servant [Tenor]
4 Israel in Egypt, HWV 54: Part I: They loathed to drink of the river [Chorus]
5 Israel in Egypt, HWV 54: Part I: Aria: Their land brought forth frogs [Contralto]
6 Israel in Egypt, HWV 54: Part I: He spake the word [Chorus]
7 Israel in Egypt, HWV 54: Part I: He gave them hailstones for rain [Chorus]
8 Israel in Egypt, HWV 54: Part I: He sent a thick darkness [Chorus]
9 Israel in Egypt, HWV 54: Part I: He smote all the first-born of Egypt [Chorus]
10 Israel in Egypt, HWV 54: Part I: But as for His people [Chorus]
11 Israel in Egypt, HWV 54: Part I: He rebuked the Red Sea [Chorus]
12 Israel in Egypt, HWV 54: Part I: He led them through the deep [Chorus]
13 Israel in Egypt, HWV 54: Part I: But the waters overwhelmed their enemies [Chorus]
14 Israel in Egypt, HWV 54: Part I: And Israel saw that great work [Chorus]
15 Israel in Egypt, HWV 54: Part I: And believed the Lord [Chorus]
16 Israel in Egypt, HWV 54: Part II: Moses and the Children of Israel [Chorus]
17 Israel in Egypt, HWV 54: Part II: I will sing unto the Lord [Chorus]
18 Israel in Egypt, HWV 54: Part II: He is my God [Chorus]
19 Israel in Egypt, HWV 54: Part II: The Lord is a man of war [Chorus]
20 Israel in Egypt, HWV 54: Part II: The depths have covered them [Chorus]
21 Israel in Egypt, HWV 54: Part II: Thy right hand, O Lord [Chorus]
22 Israel in Egypt, HWV 54: Part II: And in the greatness of Thine [Chorus]
23 Israel in Egypt, HWV 54: Part II: And with the blast of Thy nostrils [Chorus]
24 Israel in Egypt, HWV 54: Part II: Aria: The enemy said, I will pursue [Tenor]
25 Israel in Egypt, HWV 54: Part II: Aria: Thou didst blow with the wind [Soprano]
26 Israel in Egypt, HWV 54: Part II: Who is like unto Thee, O Lord? [Chorus]
27 Israel in Egypt, HWV 54: Part II: The people shall hear and be afraid [Chorus]
28 Israel in Egypt, HWV 54: Part II: Aria: Thou shalt bring them in [Contralto]
29 Israel in Egypt, HWV 54: Part II: The Lord shall reign for ever and ever [Chorus]
30 Israel in Egypt, HWV 54: Part II: Recitative: For the horse of Pharaoh [Tenor]
31 Israel in Egypt, HWV 54: Part II: The Lord shall reign for ever and ever [Chorus]
32 Israel in Egypt, HWV 54: Part II: Recitative: And Miriam the prophetess [Tenor]
33 Israel in Egypt, HWV 54: Part II: Aria: Sing ye to the Lord [Soprano, Chorus]