Die Zauberflöte – arrangée par Ehrenfried
The Magic Flute by Wolfgang Amadeus Mozart, with a text by impresario and actor Emanuel Schikaneder, was given its first performance on September 30th 1791 in Vienna's Theater auf der Wieden. It was the beginning of an unparalleled success story. The Mainz court musician Franz Heinrich Ehrenfried (1747–1828) would also have benefited from this vogue with his arrangement of the Magic Flute for flute quartet. Ehrenfried, who clearly had a special preference for instrumental combinations featuring the fashionable flute, manages with this quartet to produce a high-quality, technically demanding composition.
---
Die Zauberflöte – arrangée par Ehrenfried
Die «Zauberflöte» von Wolfgang Amadeus Mozart mit dem Text des Theaterprinzipals und Schauspielers Emanuel Schikaneder war am 30. September 1791 im Theater auf der Wieden in Wien erstmals über die Bühne gegangen. Damit nahm eine unvergleichliche Erfolgsgeschichte ihyren Anfang. Davon wird auch der Mainzer Hofmusiker Franz Heinrich Ehrenfried (1747 – 1828) mit seiner Bearbeitung der «Zauberflöte» für Flötenquartett profitiert haben. Ehrenfried, der offenbar eine besondere Vorliebe für Besetzungen mit dem Modeinstrument Flöte hatte, gelingt mit diesem Quartett ein kompositorisch und spieltechnisch anspruchsvolles Stück.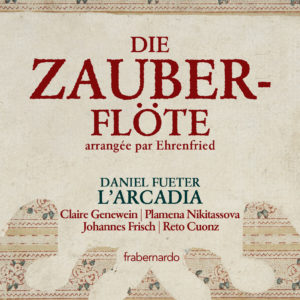 artist
Die Zauberflöte – arrangée par Ehrenfried
---
Daniel Fueter
| narrator
L'Arcadia


Claire Genewein | flute
Plamena Nikitassova | violin
Johannes Frisch | viola
Reto Cuonz | cello

---
fb2111351
2 CD (digital album)
total time c. 86:40 min.
EAN 4260307433512
---
to be released in May 2021