CONTENTEMENT PASSE RICHESSE
Music for viol and theorbo from the Goëss Tablatures, c1650-1680
Nicolas Hotman and Dietrich Stöeffken feature prominently in the substantial collection of tablature manuscripts in the library of the Goëss family of Schloss Ebenthal near Klagenfurt in Carinthia, Austria. Five, with music for viol, lute and theorbo, date from the late 17th century, the remainder date from the early 18th century and contain solo and ensemble music for baroque lute. Together they document music lessons and family music making over at least three generations.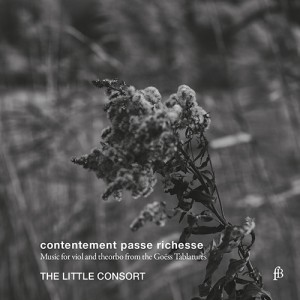 ARSTIST
Divisions in a
Nicolas Hotman (before 1614-1663)
Suite in a for theorbo Prelude H
Allemande H
S Luc Jacques de Saint-Luc (1616-c1710)
Passegalle
Nicolas Hotman (before 1614-1663)
Gigue
Suite in d for lyra viol Prelude
Dietrich Stöeffken (†1673)
Allemande
Sarabande & Double
Courante
Estienne Le Moyne (1640-1715)
Suite in G
Allemande 'Hotman'
Passegalia
Jean-Baptiste Lully (1632-1687)
Entrée des Espagnols from «Le Bourgeois gentilhomme», 1670
Gavotte
Marche des sacrificateurs from «Cadmus et Hermione», 1673
Suite in d for lyra viol
Dietrich Stöeffken (†1673)
Allemande · Courante · Sarabande & Double
Christopher Simpson (c1602/6-1669)
Divisions in d 'Pater Switoni'
John Jenkins (1592-1678)
Suite in Bb/g
Allemande · Courante · Courante
Suite in g
Prelude
Nicolas Hotman (before 1614-1663)
Sarabande · Courante
Suite in Bb 
Dietrich Stöeffken (†1673)
Allemande · Courante · Courante
Suite in d for lyra viol
attr. Dietrich Stöeffken (†1673)
Allemande F. S. · Sarabande & Double 
Divisions in d
The Little Consort
Johanna Valencia lyra viol
Hermann Platzer theorbo
Richard Carter bass viol
fb 1403111
EAN code 4260307430023