BEETHOVEN VINTAGE | Walter Gieseking
In dark times, in January 1945, Walter Gieseking sat down at the grand piano in Hall 1 of the «Haus des Rundfunks» in Berlin to record one of the most famous piano concertos together with the station's orchestra under the direction of Artur Rother. This recording is legendary not only because of the musicians' interpretation with their incredible feeling for «tempo rubato», for «inegality», their spontaneity, their interplay.
Technically, too, the recording is a masterpiece. It is the first stereo recording of Beethoven's 5th Piano Concerto. It is convincing how it was possible to reproduce a natural spatial sound with only four microphones.
The concerto is framed by Beethoven's Heilgenstädter Testament, recited by Werner Krauss (1958) and the eulogy for Beethoven by Franz Grillparzer, spoken by Albin Skoda (1958).
---
In düsterer Zeit, im Januar 1945 setzte sich Walter Gieseking im Saal 1 des Haus des Rundfunks in Berlin an den Flügel, um gemeinsam mit dem Orchester des Senders unter der Leitung von Artur Rother eines der bekanntesten Klavierkonzerte aufzunehmen. Diese Aufnahme ist nicht nur durch die Interpretation der Musiker mit ihrem unglaublichen Gefühl für «Tempo rubato», für «Inegalität», ihrer Spontaneität, Agiliät und ihrem Zusammenspiel legendär. Auch technisch ist die Aufnahme eine Meisterleistung. Es ist die erste Stereoaufnahme des 5. Klavierkonzertes von Beethoven. Überzeugend, wie es gelang mit nur vier Mikrofonen einen natürlichen Raumklang abzubilden.
Umrahmt wird das Konzert von Beethovens Heilgenstädter Testament, vorgetragen von Werner Krauss (1958) und der Grabrede auf Beethoven von Franz Grillparzer, gesprochen von Albin Skoda (1958).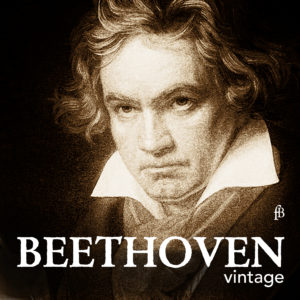 artist
BEETHOVEN VINTAGE | Walter Gieseking
---
Walter Gieseking (piano)
Artur Rother (conductor)
Orchester des Reichssenders Berlin (orchestra)
Werner Krauss (narrator)
Albin Skoda (narrator)


---
fb 2112945
digital album
total time c. 53 min.
UPC 4260307439453
---
released in June 2021
tracks
BEETHOVEN VINTAGE | Walter Gieseking
---
| | |
| --- | --- |
| | Heiligenstädter Testament (1802) |
| Piano Concerto No. 5 in E-flat major, Op. 73 | I. Allegro |
| Piano Concerto No. 5 in E-flat major, Op. 73 | II. Adagio un poco mosso |
| Piano Concerto No. 5 in E-flat major, Op. 73 | III. Rondo. Allegro |
| | Grillparzers Rede am Grabe Beethovens (1827) |
Klicke hier, um Ihren eigenen Text einzufügen