Johann Sebastian Bach at Weimar
Johann Sebastian Bach was certainly full of zeal when he arrived with his pregnant wife Barbara in Weimar on 14th July 1708, giving up his free position as organist of the imperial city of Mühlhausen to enter into the service of the dukes of Weimar as a lackey with the title of court organist and chamber musician. He was familiar with the court, having spent half a year in the city in 1703.
The publication of the richly-scored Mühlhausen city council inauguration cantata «Gott ist mein König» BWV 71 – performed on February 4th 1708 and incidentally the only cantata to be published during the composer's lifetime – certainly created a stir in Weimar, with Ernst August von Sachsen-Weimar himself having played the violin and even the trumpet. His co-governing uncle Wilhelm Ernst was highly appreciative of church music, enabling Bach to draw upon unlimited resources at court and to put on performances with more than a dozen professional musicians.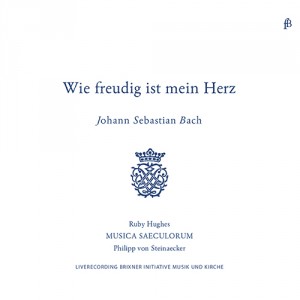 ARSTIST
Johann Sebastian Bach  (1685 – 1750)
«Mein Herze schwimmt im Blut» BWV 199
Kantate zum 11. Sonntag nach Trinitatis, Weimar 12. August 1714
«Ich habe genug» BWV 82
Kantate zum Fest Mariae Reinigung, Leipzig 2. Februar 1731
Ruby Hughes    soprano
Musica Saeculorum
Philipp von Steinaecker   conductor
fb 1209132
EAN code 4260307439132