Baroque trumpet music from Austria
Trombett- undt musikalischer Taffeldienst is not only the somewhat tongue-in-cheek title of a Biber Sonata, but also the determining factor behind the choice of works presented in this programme. The trumpet had served to display the secular and sacred power of occidental baroque princes since time immemorial and no celebrations were complete without the proverbial splendour of trumpets and drums.
The varied selection of composers on this recording were all associated in one way or another with the court of prince-bishop Carl von Liechtenstein-Kastelkorn in Moravian Kromeriz.
During his long episcopacy (1664-95), Liechtenstein transformed a city ruined by the Thirty Years War into a flourishing and imposing fortified residency, preparing the ground for a lively musical life characterised by Austrian high baroque style.
WORLD PREMIERE RECORDINGS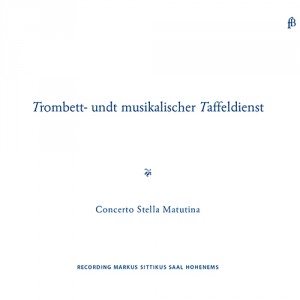 ARSTIST
Anonymus (2nd half of 17th cent.)
Sonata a 9
Heinrich Ignaz Franz Biber (1644 – 1704)
Sonata VII a 5 from : Sonatae tam aris quam aulis servientes, Salzburg 1676
Philipp Jakob Rittler (um 1637 – 1690)
Sonata a 18
Alessandro Poglietti ( – 1683)
Sonata VII
Heinrich Ignaz Franz Biber (1644 – 1704)
Sonata a 6 «Die Pauern Kirchfahrt genandt»
Pavel Josef Vejvanovsky (um 1640 – 1693)
Sonata Sancti Mauritii a 8
Philipp Jakob Rittler (ca. 1637 – 1690)
Ciaccona a 7
Sonata a 17
Johann Heinrich Schmelzer (ca. 1623 – 1680)
Sonata a 3
Jan Krtitel Tolar (ca. 1620 – 1673)
Sonata a 10
Heinrich Ignaz Franz Biber (1644 – 1704)
Trombett- undt musikalischer Taffeldienst a 4
Philipp Jakob Rittler (um 1637 – 1690)
Sonata Sancti Caroli a 17
fb 1209232
EAN code 4260307439231