kapsberger – intavolatura
This album emerged from the idea of bringing together some very different works by Kapsberger for solo theorbo in order to present a more diverse overview of the German-Italian virtuoso performer and composer. The pieces of music are taken from Books I, III and IV d'intavolatura di chitarrone, currently the only printed sources of theorbo music by Kapsberger available to us. Book I was printed in Venice in 1604, Books III and IV in 1626 and 1640 respectively.
kapsberger – intavolatura
Funke für die vorliegende CD war die Idee, verschiedene Werke für Theorbe von Kapsberger zu präsentieren, um Licht auf die farbenreiche Welt dieses deutsch-italienischen Virtuosen und Komponisten zu werfen. Die Kompositionen wurden dabei dem I., III. und IV. Buch der Intabulierungen für den Chitarrone entnommen. Sie sind derzeit die einzigen erhaltenen, gedruckten Sammlungen für Theorbe von Kapsberger. Das I. Buch erschien 1604, das III. und IV. 1626 bzw. 1640 in Venedig.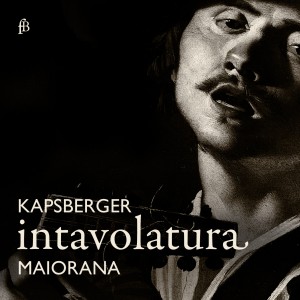 ARSTIST
Stefano Maiorana
chitarrone
fb 1603777
1 CD
EAN 4260307437770

released in June 2016

tracks
Giovanni Girolamo Kapsperger  (ca. 1580 – 1651)
[ 1 ]    Preludio primo & Preludio secondo
from : Libro quarto di intavolatura di chitarrone, Roma 1640
[ 2 ]    «Com'esser può» a 5 passeggiato
nach Carlo Gesualdo «Madrigali a cinque voci libro primo,  Venetia 1616»
from : Libro terzo di intavolatura di chitarrone, Roma 1626
[ 3 ]    Preludio decimo & Preludio nono
from : Libro quarto di intavolatura di chitarrone, Roma 1640
[ 4 ]    Toccata seconda Arpeggiata
from : Libro primo di intavolatura di chitarrone, Roma 1604
[ 5 ]    Gagliarda, partita prima e seconda
from : Libro terzo di intavolatura di chitarrone, Roma 1626
[ 6 ]    Preludio terzo & Preludio quarto
from : Libro quarto di intavolatura di chitarrone, Roma 1640
[ 7 ]    Toccata seconda
[ 8 ]    Corrente seconda
both from : Libro terzo di intavolatura di chitarrone, Roma 1626
[ 9 ]    Ballo primo – Uscita, ballo, gagliarda, corrente
from : Libro quarto di intavolatura di chitarrone, Roma 1640
[ 10 ]    Preludio undecimo & Preludio duodecimo
from : Libro quarto di intavolatura di chitarrone, Roma 1640
[ 11 ]    «Ancidetemi pur» a 4 passeggiato
nach Jacob Arcadelt «Il primo libro di madrigali, Venetia 1581»
from : Libro terzo di intavolatura di chitarrone, Roma 1626
[ 12 ]    Passacaglia
from : Libro quarto di intavolatura di chitarrone, Roma 1640
[ 13 ]    Preludio quinto & Preludio sesto
from : Libro quarto di intavolatura di chitarrone, Roma 1640
[ 14 ]    Toccata terza
from : Libro terzo di intavolatura di chitarrone, Roma 1626
[ 15 ]    Toccata quinta
from : Libro primo di intavolatura di chitarrone, Roma 1604
[ 16 ]    Battaglia
[ 17 ]    Ballo terzo – Uscita, ballo, gagliarda, corrente
both from : Libro quarto di intavolatura di chitarrone, Roma 1640
[ 18 ]    Toccata quarta
from : Libro primo di intavolatura di chitarrone, Roma 1604
[ 19 ]    Corrente prima
from : Libro terzo di intavolatura di chitarrone, Roma 1626
[ 20 ]    Toccata prima
from : Libro primo di intavolatura di chitarrone, Roma 1604
cover · back
intavolatura
stefano maiorana[/caption]